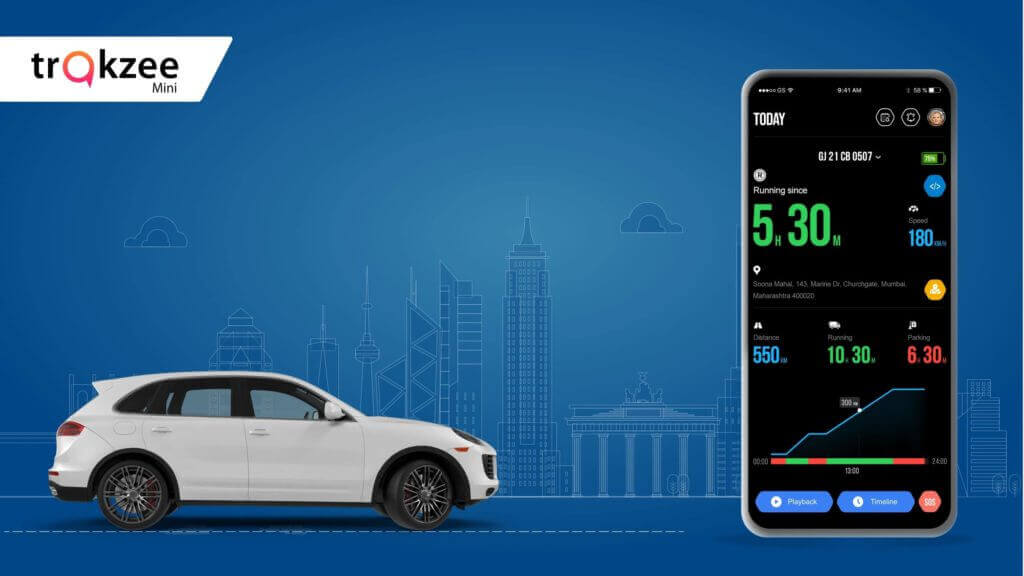 The costs of owning a car or vehicle go beyond simply buying one. There are gas bills, maintenance costs, loan payments, insurance premiums, and many other expenses to consider. But are your vehicles truly secure after investing so much money? Car theft, break-ins, accidents, and maintenance issues are just a few of the problems that can be incredibly distressing. Well, stress not — personal vehicle tracking solutions, such as Trakzee Mini ensure that your vehicle is secure, always.
Personal Vehicle Tracking System
Vehicle tracking systems have been game-changing for businesses. It's about time we revolutionize personal vehicle tracking as well. Personal vehicle tracking can make your life easier in so many ways. Trakzee Mini not only helps you monitor your cars remotely but also identifies unsafe driving behaviors. You can track down drivers, reduce the risk of theft, and even cut back on maintenance costs by identifying areas that need repair.
Still not convinced? Keep on reading to find out why should get personal vehicle tracking right away!
Live tracking and route playback
Trakzee Mini's personal vehicle tracking lets you monitor your vehicle 24/7 so that you can take action if something goes wrong. Vehicle trackers can be set up to automatically send you the vehicle's location information. You also get a detailed map of your car's real-time location. You can view a route map of your car's movements by date, time, and duration. With this information, you can view where the vehicle has been and the driving distance. This can help you to better understand your travel patterns and can be useful when claiming business mileage.
Track Theft or Accidents
Trakzee Mini helps you take precautions to keep your vehicle from being stolen. GPS vehicle trackers can be set to send you an alert if your vehicle is involved in an accident or stolen. Trakzee Mini will allow you to quickly determine your vehicle's location so that you can take appropriate action and get it back as soon as possible. You can equip your car with a tracker that can detect the opening of a particular port. You will be notified immediately if someone breaks into your car.
Real-time alerts and secure park
Real-time notifications provide extensive information. Are you going on a trip? Get full route information, including the amount of time your car was operating, idle, and parked. Some vehicle trackers can track the driver's behavior and determine if the driver is at risk of causing a collision. You get instant notifications so that appropriate action can be taken. With the secure park feature, you get instant notifications if your vehicle is moved from its original parking location.

Geofencing
Trakzee Mini can help you to set up geofences around specific locations. For example, if you park your car at the office, you can set up a geofence around the office parking lot. If your car leaves the geofenced area, you will be notified so that you can take appropriate action. This can help you to better monitor your vehicle's movements and can be useful if you have loaned your car to someone and want to know where they are driving. You can also set up multiple geofences, which can be useful if you often drive your car to different locations and want to know when it has left one geofenced area and entered another.
Keep track of important documents
It is important to make sure you have your vehicle documents handy in case of an emergency. This includes your registration certificate, proof of insurance, driver's license, etc. The app lets you store and organize documents for different vehicles conveniently in one place. Your RC book can help prove that you are the legal owner of the vehicle in the event of an accident or other legal situation. if your vehicle is stolen, having your documents together can help law enforcement track it down more quickly. Keeping your documents organized and up-to-date can also make things much simpler when it comes time to sell or transfer ownership of your vehicle.
Track maintenance of your vehicles
Regular maintenance of your personal vehicle is more than crucial. Not only does it keep your car running smoothly, but it also helps to prevent expensive repairs down the road. Trakzee Mini helps you keep track of the maintenance schedules of multiple vehicles. You can get regular reminders about things like:
Changing the oil
Checking the brakes and steering system
Inspecting the tires for wear and tear
Replacing the air filters as needed
These are just a few of the things you should be doing on a regular basis to keep your car in good shape. From your motorcycle to your minivan, you can add multiple vehicles and track their maintenance with our personal vehicle tracking app.

Summary
GPS trackers have come a long way since they were first introduced and now provide many new benefits such as real-time tracking, driving behavior monitoring, and geofencing. A competent personal vehicle tracking solution like Trakzee Mini can be extremely useful in case of theft, accidents, or unauthorized usage. From handling vehicle paperwork like the RC book to tracking maintenance, Trakzee Mini is the one-stop solution for managing all your personal vehicles. So what are you waiting for? Give us a call now!