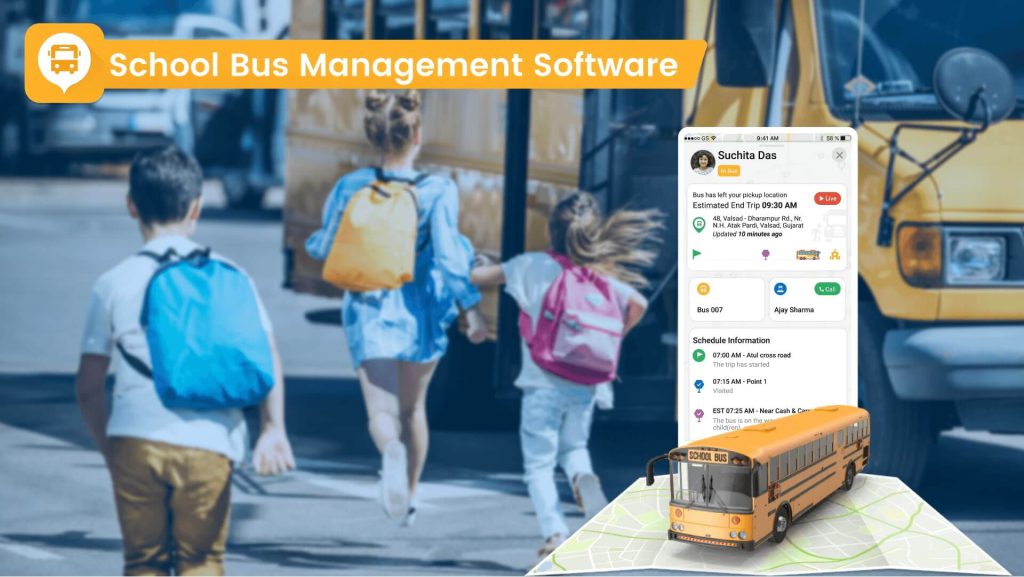 Here is why India needs school bus tracking software
In 1997, a fully-crammed school bus fell off a bridge and into the Yamuna river in Delhi.
Twenty-eight children lost their lives in that accident.
Not so long after, the Supreme Court of India published strict guidelines for safer school bus transportation.
According to the SC guidelines:
The name of the school and a valid contact number of the school administrator should be written on the school buses
Every school bus must have a first-aid box and a fire extinguisher.
School bus drivers should have a valid license to drive LMV Transport Vehicles. The bus driver needs to carry a complete list of the children traveling on the bus.
In addition to the driver, there must be an adult attendant present on the bus at all times.
School buses should be installed with speed warning systems that prevent drivers from going above speed limits.
If a guardian fails to pick up the child from the halting points, the child should be taken back to the school.
The government-sanctioned rules were supposed to reduce the dangers of going to school.
But statistics tell an entirely different story.
In 2017-18, the Indian transport department challaned over 400 school buses.
A study conducted by the SaveLife foundation and National Crime Records Bureau (NCRB) revealed that nearly 43 children are killed every day in India (2018) because of school bus accidents.
Every day, school bus drivers are fined for speeding, rash driving, and using phones.
As a matter of fact, the negligent behavior of school bus drivers is believed to be the number one cause of student fatality.
One such shocking instance is described below:
In 2018, about 26 students of Kakatiya Techno School, Telangana, were killed when a school bus ran into a passenger train at an unmanned railway crossing. The driver did not notice the train because he was too busy using his mobile phone. This incident is especially sad because it could have been entirely avoided with a driver monitoring system and appropriate driver training.
Most schools today are successfully providing a quality, world-class education to the students. Sadly, they have miserably failed to make travel safer. However, they can recover with the help of school bus management systems. Because these systems can increase student safety, reduce risky driver behaviors, and save money!
Yes, you read that right!
Supplementing school buses with internet connectivity and GPS technology can be miraculous.
School bus management software allows the real-time tracking of school buses. It offers live data including current (or historical) bus routes, upcoming stoppages, transit times, and in-fleet video footage.
This type of 360° monitoring increases student safety, allowing parents and school admins to quickly respond to emergencies.
How does tracking school buses enhance safety?
Let us explore the features of a school bus management system and see how they secure student transportation.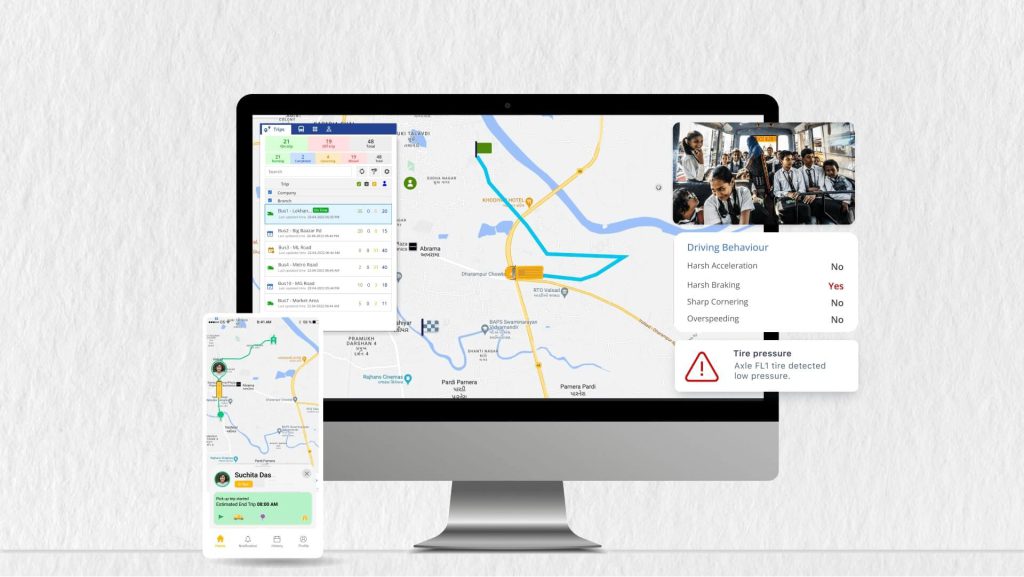 Real-time tracking
Without a school bus management system, parents have little to no idea about their child's whereabouts. As soon as the kids board their school buses, parents begin to wonder when the bus will reach school. Due to lack of visibility, parents often end up waiting for hours at the bus stop, worrying about their child's safety.
These problems can be addressed with the help of school bus management software. Which provides real-time location of school buses to admins and parents. Hence, keeping everyone updated about delays, unexpected events, or accidents.
GPS tracking adds a level of transparency that relieves parents from hours of worrying. With the school bus management system, parents can track their child's bus in real-time.
In-fleet cameras
School bus management software can be integrated with dashcams or in-fleet cameras. Then, live video footage can be accessed by parents and school admins. Parents can keep an eye on their children while admins can monitor driver behaviors. This form of video monitoring supplements telematics data, giving a more comprehensive view.
Violations made by drivers like talking on the phone or smoking on the bus can be captured via dual-lens dashcams. These get recorded and are available for school admins to review. Administrators can playback violation snapshots and coach drivers. Hence, video monitoring helps instill safer driving habits among school bus drivers.
Video playback tools also serve as evidence in case of accidents. Exonerate your bus drivers from false claims. (Dashcam video footage is considered a valid proof in a court of law)
Alerts
GPS triggered alerts keep schools, parents, and bus drivers updated about necessary events. So they can combat any emergency with a timely response. With active alerts, school admins can respond to bus breakdowns, accidents, or flat tires in no time.
School bus management applications offer a variety of alerts ranging from a missed bus stop, route deviation, accident, SOS, low tire pressure, low fuel levels, bus idling, distracted driving, and more. Alerts improve routing and school bus scheduling and allow all involved parties to react faster to mishaps.
Thus, making sure that students reach school safely and on time.
Driver Ratings
It is no news that negligent driving behaviors can lead to accidents. The only way to curb risky driving habits is to monitor them. With the school bus tracking app, you get alerts for driving violations like over-speeding, harsh braking, idling, seat-belt use, and more. Based on the number of violations that occurred during a trip, driver scorecards are generated. Hence, in a matter of seconds, school admins can identify high-risk drivers.
Driver violation and activity reports give a detailed summary of how and when the violations occurred. Thus, with telemetry data and video evidence, admins can improve driving habits and greatly reduce the risk of school bus accidents.
---
Additional benefits of using school bus management software:
Long before the academic year starts, school administrators are busy figuring out the best routes for the school buses.
However, all this manual planning can go right out of the window with the slightest change in scheduling.
Say a student wants to board and get off the school bus at different stops. Or the route selected by the school admins is closed for construction, and now the school bus needs to take a different route rendering the original route ineffective.
Hence, you can see how manual planning is time-consuming and cannot keep up with changing dynamics.
Management of school bus routes and pickup-drop stops can be stressful. That is why using school bus management software can be advantageous. With route optimization and automated trip planning, school admins can design infallible routes. These routes can withstand last-minute changes and can guarantee savings.
With a school bus management system, all admins need to do is upload a list of buses and a list of the students. Now, the algorithm considers these data sets in accordance with school timing, rush hours, and bus stoppages and generates optimum routes.
---
Conclusion
Needless to say, a school bus transportation software will automate processes like data management, school bus routing, and scheduling—saving critical hours. Optimized routes will cut down the road time and cause tremendous fuel savings.
A school bus management system also improves the efficiency of school buses through regular maintenance and engine health monitoring. Buses that are well-maintained and seldom break down.
Lastly, with access to timely data, schools can coach drivers and elucidate the importance of safe driving. Hence, making traveling to school safe. No student should have to fear going to school. The only way to establish nationwide student safety is to equip all our school buses with a tracking and management system.
---
Citations
1. https://www.thehindu.com/news/cities/Delhi/the-dangers-of-going-to-school/article19247131.ece