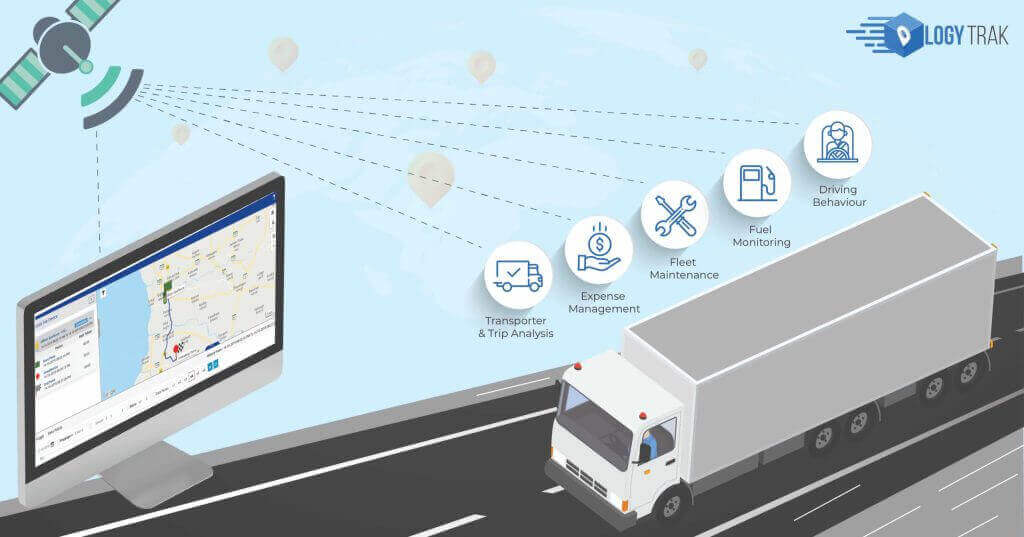 GPS tracking system is well known for tracking the object or person in real-time. But nowadays, it not only tracks but also manages and assures the safety of the object. These systems have become an important part of every industry.
Even the trucking industry has welcomed it for the progress of their business. This is important as the trucking industry has a great impact on the World economy. It helps in the transportation of a large amount of raw material, work processes, and final products. This means it directly plays a major role in the economic growth of its country. So, they need to keep track of all their trucks, their's performance, and check consignment delivery.
Here, GPS tracking systems come to help by reducing issues and failures faced by the truck. It provides various solutions, reports, and alerts for real-time problem detection and prevention.
What are the problems faced by the trucking industry?
There are many issues in the trucking industry, some major problems are listed below:
Regulation: The regulations or fleet rules for truck and driver safety are created by the government. But remembering all of them is a hard task. Moreover, many times it creates an extra expense for fleet and driver.
Fuel Saving: Increasing fuel prices and their wastage is a big issue as this affects the fleet budget. So managing multiple trucks at the same time is next to impossible. Moreover annual and monthly fuel tax calculation is hard.
Tire failure: A truck can have 4 or more tires according to their size. So managing them becomes difficult for the trucking industry to keep count of each tire and reduce tire failures. This leads to tire damage and thus decreases tire life.
Cashflow: A truck has many expenses which include the operational and repair cost. But these costs are not maintained properly from the first day and lead to confusion while calculating monthly or annual expenses. Moreover, you will have to collect all the bills and wait for the end of the month or year to know all the expenses and to calculate them.
Safety: The safety of the truck, driver, and consignment is a concern for the industry. As the damage or theft of fleet and asset can create a huge loss.
So, it is important to get a GPS tracking system for trucks. Thus, we are discussing the features in our LogyTrak which can help you promote your trucking business.
How is LogyTrak useful for the trucking industry?
LogyTrak is the best solution for managing and tracking the trucking industry. The system is also useful for the company depending on different trucks of 3rd party. The main aim of this system is to make logistics and consignment tracking easier and more productive at the same time.
The highlighting features of this are:
Real-time tracking
Fuel Monitoring
Temperature Monitoring
Fleet maintenance Reminder
Trip Analysis
Driving behavior monitoring
Expense Management
Tire management
SOS alert
Transporter Analysis
External hardware and device support
Real-Time tracking
GPS tracking or real-time tracking enables us to keep the accurate on-time status of the truck. This enables us to know where the truck is and the route. Moreover, you will be able to track multiple trucks at the same time. LogyTrak has a map in it which shows its real-time location. It has options like Geofence, PoI, measure area, cluster view, street view, and traffic. It also provides playback of the previous trips of the truck.
Fuel Monitoring
The fuel monitoring features help to keep track of fuel usage and drain. It checks all the changes in the fuel tank from fuel filling to fuel draining. It also helps to find fuel theft. It alerts the driver and other users regarding fuel refilling, pilferage, drain, theft, and more to help you take required actions at the same time.
Temperature Monitoring
The trucks which carry storage containers need to maintain an accurate temperature. For maintaining the required temperature LogyTrak provides Temperature monitoring. It analyzes the temperature changes in small intervals and keeps updated regarding the change. In the case of low or higher temperature than the required temperature, then an alert is generated thus you will be able to keep the goods safe.
Fleet Maintenance Reminder
The maintenance of the truck according to government regulations and its performance is important. So, the fleet maintenance reminder will help you to remember all the maintenance before the actual date and also alerts you regarding the missed maintenance to eliminate truck breakdown. Moreover, it helps to decrease unwanted repair expenses.
Trip Analysis
The trip analysis helps to beat the competition by organizing the transport business with LogyTrak. It will help the user to minimize cost, minimize risk factors, and improve customer service. This is useful to know the total number of trips taken by your fleet. Moreover, you will be able to understand fleet violation and vehicle safety alert. Other alerts are also available which includes a trip exception, missed delivery, and trip summary.
Driving behavior monitoring
Driving behaviour monitoring helps to analyze the driver's performance and to improve their efficiency. The analysis includes over-speeding, harsh braking, harsh acceleration, sharp cornering, and night driving. Moreover, you can get alerts and reports for understanding the behavior of the driver.
Expense Management
The system has expense management which helps to efficiently calculate fuel and maintenance expenses. This helps to manage all the expenses at one location. Moreover, you can view the present and previous expenses for a better future. You will also get reports which help to get an overview of all your expenses till date.
Tire Management
Tire management comes along with the tire pressure monitoring system which not only manages each tire but also keeps track of pressure and temperature in the tire. Here, you will be able to keep track of tires in the axle, know when they were retreated or rotated. It also helps to understand the duration traveled by tires. Moreover, you will be able to keep a count of new tires added in your stock and identify their activity.
SOS alert
SOS alert helps the truck driver to get quick help in case of emergency. In many situations when a driver needs help to save his life or fleet and needs to deliver an instant help message, then with this button he will be able to do so. Moreover, the user can get the real-time location of the driver along with the alert message.
Transporter Analysis
Transporter analysis is useful for companies using multiple transporter services. It analyzes each and every vehicle or fleet as per their vehicle number, location, origin to destination of transportation, etc. The system helps to find out the best transporter service provider. Moreover, get reports like trip delay and trip summary for knowing the performance of the transporter.
External hardware and device support
The system is capable of supporting any external hardware and devices according to user requirements. It is flexible to integrate any new GPS tracker, so you won't have to depend on the tracker already integrated with the system. The GPS vehicle tracker or other sensors are easily configured in it without any long procedures. Already, we have integrated more than 500 GPS trackers and devices for user flexibility.
Conclusion
The trucking industry will be able to contribute more revenue to your country with the help of LogyTrak. As LogyTrak helps to eliminate the problems of this industry. So it's time to know how advanced technology can help to improve your productivity. Be connected with us to know about other useful features and upcoming technologies.