Introduction
At Uffizio, we believe that technology has the power to transform lives and make the world a safer place for everyone. Today, we are excited to share how we are contributing to women's safety in Arunachal Pradesh under the Nirbhaya Women's Safety Scheme. The Nirbhaya Fund, named after a brave young woman who tragically lost her life, was established to address gender-based violence and empower women across India. We are proud to be a part of this transformative initiative.
Why Women's Safety Matters
Women's safety is not just a social issue; it's a fundamental human right. Ensuring the security and well-being of women is essential for the progress and development of any society. When women feel safe, they can actively participate in various fields, contributing to the nation's growth. It is our moral duty to employ innovative solutions to comprehensively address women's safety concerns.
Uffizio's Solution: Vehicle Validity Certification
It is mandatory for vehicles to get a vehicle fitness certificate and renew it periodically in order to run smoothly on the road. By law, if the certificate is not renewed, the vehicle cannot operate on the road. Moreover, Uffizio's software issues Vehicle Fitness Certificates after a verification process in collaboration with the Arunachal Pradesh state RTO. These certificates confirm that the vehicles along with the panic button and their GPS devices are in proper working condition. This step is crucial for maintaining the integrity of the transportation system and, most importantly, ensuring passengers' safety.
Real-time Women Safety with Uffizio
Uffizio's software goes beyond the conventional. Equipped with real-time monitoring capabilities, it collects data from GPS devices installed in the vehicles. In the event of an emergency, such as when any woman presses the SOS button for safety, our software swiftly generates a distress call, along with the exact location of the vehicle.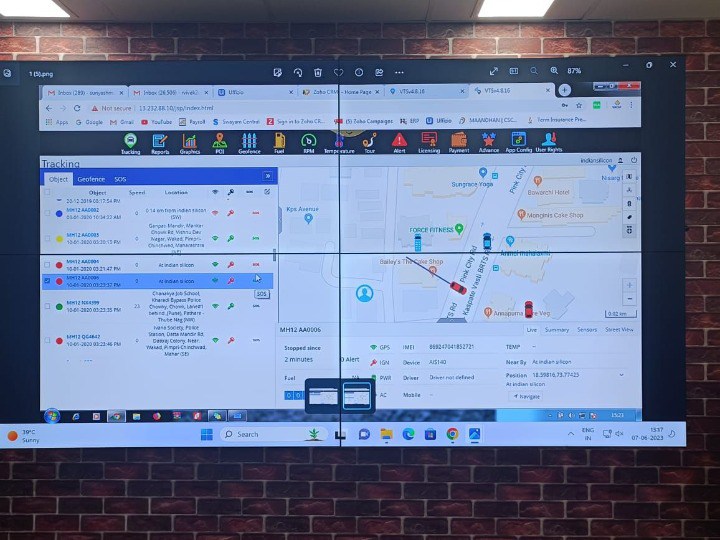 This real-time location information allows our response team to reach the vehicle's location promptly, monitor the situation, and take immediate action for women's safety. Additionally, it's a lifeline that can make all the difference in critical situations.
But that's not all – our software can send over 100 real-time alerts. Swiftly identify potential vehicle or GPS issues to prevent accidents, ensuring a safer journey for all.
Additional Safety Features for Women's
In addition to real-time location data and distress calls, our solution offers even more safety features. It provides valuable information such as vehicle speed, ensuring that drivers adhere to safety guidelines. For school buses, we offer stay-in-zone alerts, enhancing the security of young passengers.
Conclusion: Beyond Fleet Management
Uffizio's fleet management solution is widely recognized, but we go beyond that. Moreover, we actively serve as a technology partner committed to making a meaningful impact on society. Furthermore, our commitment to enhancing women's safety in Arunachal Pradesh under the Nirbhaya Women's Safety Scheme showcases the power of technology in creating safer and more secure environments for all.
As we look to the future, let us continue to support and champion initiatives that promote the well-being of women and society as a whole. Together, we can make a difference and build a world where everyone feels safe and empowered. At Uffizio, we honor being part of this journey, and we will remain committed to utilizing technology for good.