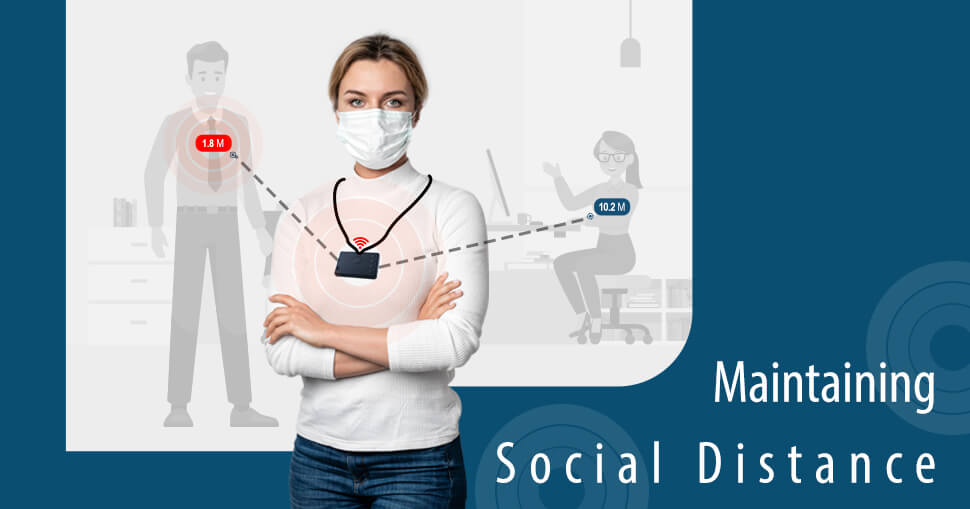 With businesses across the world slowly starting to pace-up back to normalcy, a lot is uncertain and confusing. Pandemic has given us a great set back, but people and economy have to be back with their work and services for survival. But are we ready to live and work with a pandemic? We say these tough times demand a cutting-edge and scalable technology solution. A lot can be dealt, organized and followed by the means of technology. How? Hers what we are talking about.
Personal tracker and proximity solution
As an employer, let's say, you run an enterprise of 100+ employees. To get back into operation, you will be required to abide by all possible safety measures. Now, you can't be everywhere keeping an eye on your associates whether they are following the precautionary measures strictly? Well, the good news is managing the health, safety, and availability of your entire employees is now possible.
Uffizio has made a software partnership with Teltonika who has designed a personal tracker which wears the hat of multiple functions. You can use this personal tracker as your employees' badge and effortlessly access the data regarding employee security in these times. Let's get more into its details now.
How does this personal tracker work?
This is a revolutionary and scalable solution that tracks and records all the activities of your employee. An employee will be given the tracker to wear around their neck as a badge that holds their ID card. This will be given to the employees at the start of their day at the office. They would press the log-in button that would state their attendance. It can be also used to access the office rooms and halls.
The proximity meter of the tracker will constantly align with the other trackers checking and maintaining a safe distance from each other. In case of any violation of social distancing, an alarm system will be alerted until the employees go back to a safe distance from each other. All the required information such as any dangerous contacts made, daily in and out time, etc can be easily taken from the tracker. With geofencing, five configurable buttons, a no-movement alert, man-down alert, and two-way communication, this tracker will ensure the complete safety of your employees. Above all, this device is extremely easy to charge, maintain and sanitize.
Dangerous Contact Made: It is one of the important features of this solution it has the possibility to pull out the data of who has been in short contact with the patient and how long they stayed too close to each other. This works when the person is infected with covid19 has no symptoms, and spreads the virus at work. Let's say after a week once that person starts to feel the symptoms and gets tested positive the Covid19, reports can be pulled out from software to see who was in short contact with this person. Those people can be eliminated from work for quarantine (not the whole company if you don't have such records). This will prevent companies from shutting down again for two weeks if a couple of people are reported positive with Covid19.
The economy can still boost and operate, only if ensure proper implementation of all the precautionary measures. We are glad to collaborate with Teltonika for being able to develop this revolutionary solution that will safeguard a healthy and safe working environment.