Fuel is a valuable asset to mankind. Its usage has only increased since petroleum fuel was found. Any fuel whether it's petrol or CNG (Compressed Natural Gas) every fleet needs in large quantities for keeping them longer on the roads.
So, nowadays the biggest challenge of any fleet manager is fuel management. This is because of the points listed below:
Increasing fuel price: With the increase in fuel price, your fleet budgeting will disturb. This will lead to more fleet expenses.
Fuel theft: If the fuel of 5 vehicles is stolen then think how much you will have to spend again on each fleet.
Fuel wastage: The main reason for increasing fuel price is wastage, so detection of fuel leakage and other reason for your fuel wastage.
False fuel filling: This includes drivers filling personal vehicles on company cost or demanding fuel filling amount without actually filling the company vehicle.
These problems not only affect large industries but also have a huge impact on small transport companies.
What do you need?
To overcome this problem, you need to get an efficient fuel management system. It will help you track the fuel usage along with real-time tracking.
Now, in the competitive market when so many options are available. It becomes difficult for you to decide which system you should use.
So, today we will discuss how we are different from others.
The main highlight of Trakzee's fuel management system is its compatibility with any type of fuel sensors and devices. This means you won't have to depend on our trackers.
Sensors are used to get accurate data, but many times, sensors can be expensive. So we have two options for data gathering which are rod and fleet average. You can place the gauge rod in the fuel tank, then add full, half, and empty tank readings in the system. This will help you to get real-time data on fuel. Users can also configure the system with fleet average for gathering accurate fuel data.
Below is the fuel monitoring video which showcases how this system will help you.
Important highlights are:
Easy system configuration
Analytical reports
Summarized Charts
Accurate Expense Management
On-time Alerts
How to configure the Fuel management system?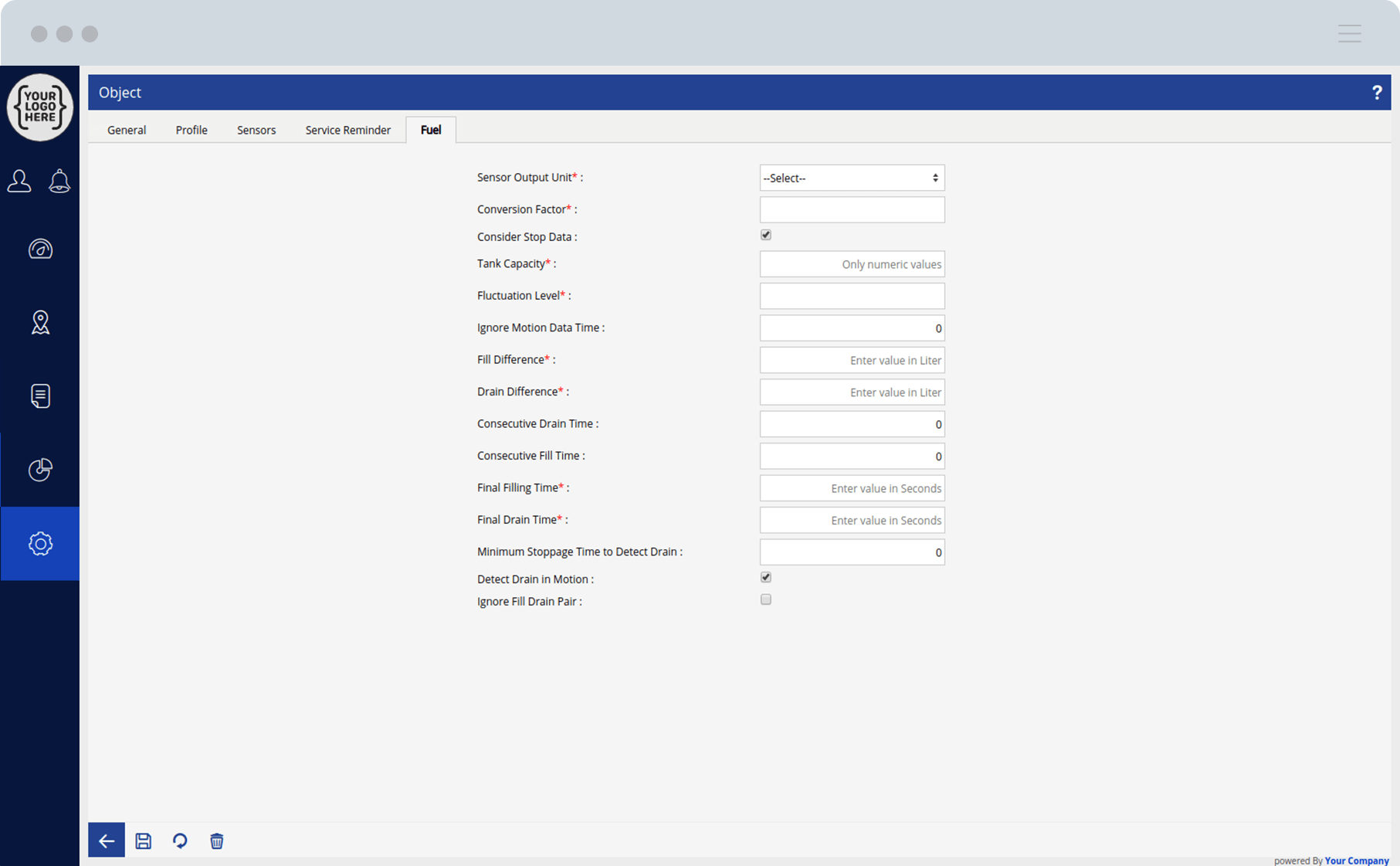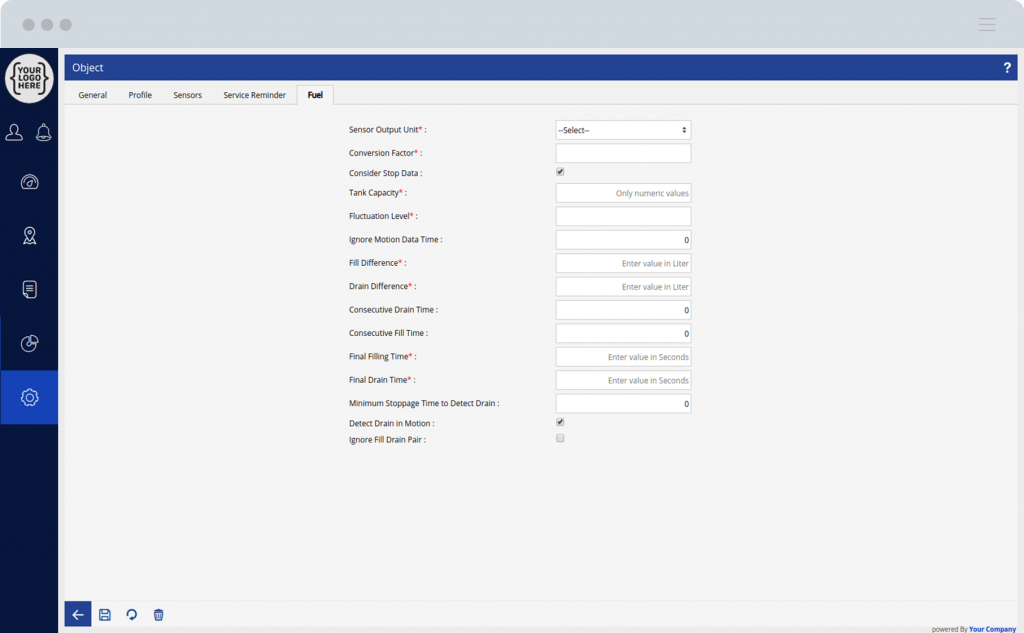 Monitoring fuel is an important task for all fleet managers. To get accurate details of fuel, you will have to configure the system according to your requirement.
Fuel configuration is a tough job but with us, it's a simple and interesting task. You simply need to calibrate by adding data as required.
Our fuel management system enables us to get the data in any fuel unit. We provide data in the form of Gallon, Percentage, Voltage, and Litre. You won't have to convert the system data into the unit you require. As the system will provide accurate data in the fuel unit as you need.
The fuel tanks are large and flat containers. So, when a car accelerates or decelerates, climb or descend or parking on a hill and driving on bumpers, will move fuel irregularly from one end to another in the tank. This will cause fluctuation. These fluctuations make fuel consumption monitoring difficult. To overcome the problem, our system eliminates unwanted fluctuation level and gathers accurate data.
Normally fuel management system records data only when a fleet is in motion. But it's important to understand that fuel theft occurs when the fleet is not in motion and fuel leakage can also occur. By understanding this we give you the opportunity to get fuel data for the fleet is not in motion.
Fuel calibration is a manual process in many systems available in the market. But we have two calibration methods which are manual and automatic. Both of these methods are simple and easy to use.
Thus, the configuration of our system enables you to capture accurate fuel level changes along with efficiently understanding fuel theft.
What is the specialty of our analytical reports?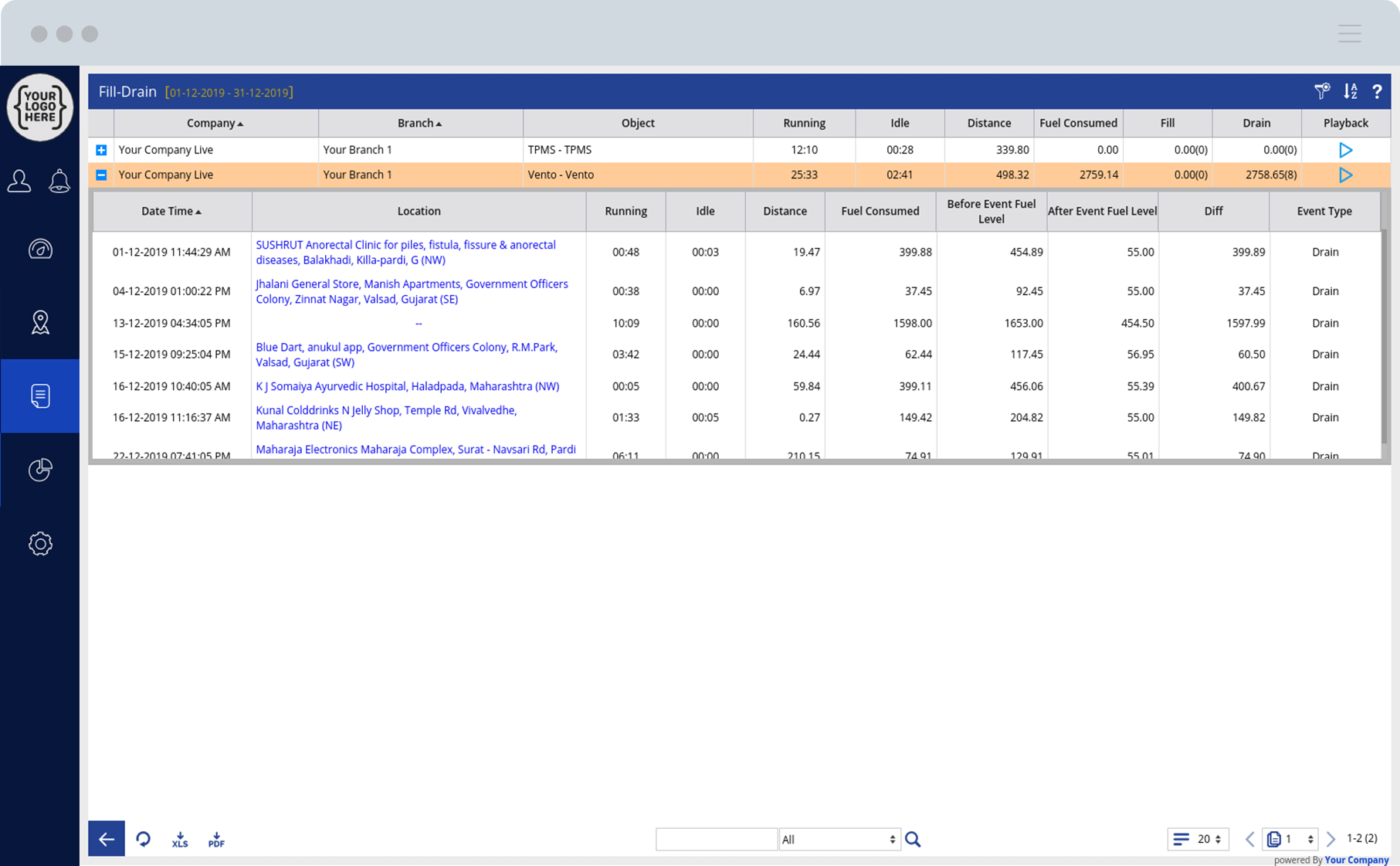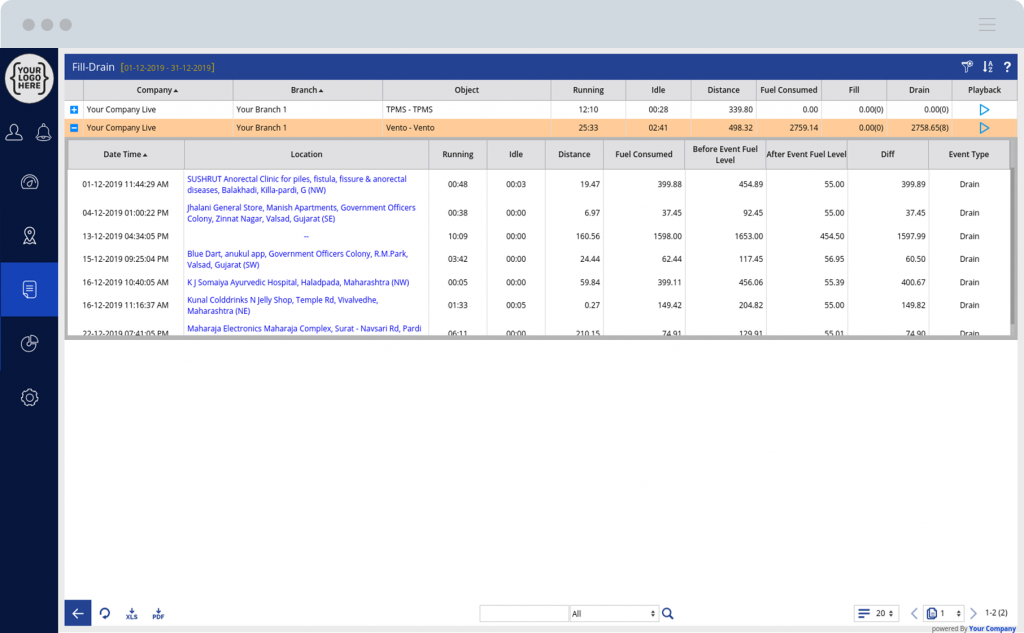 For us, the report is not about presenting all the collected data. We collect all the data, then sort the important ones and provide a report in tabular for simple understanding. Moreover, we provide two useful reports which are Consumption and Fill-Drain which analyses all the fuel data and keeps track of fuel status.
Consumption report
This report as its name suggests is used to monitor fuel consumption during a fleet trip. The report gives consumption recorded in the sensor, fleet mileage, duration, and distance along with fleet distance. These data can help you to accurately understand when was more fuel consumed by the fleet.
Fill-Drain Report
This report helps in identifying fuel filling and drain in any fleet. It enables you to understand when and where the fuel drain or fuel filling occurred. So, you won't miss any important data. Along with this, you will also get to know fleet running and idling time to understand fuel wastage and consumption.
What is new in our charts?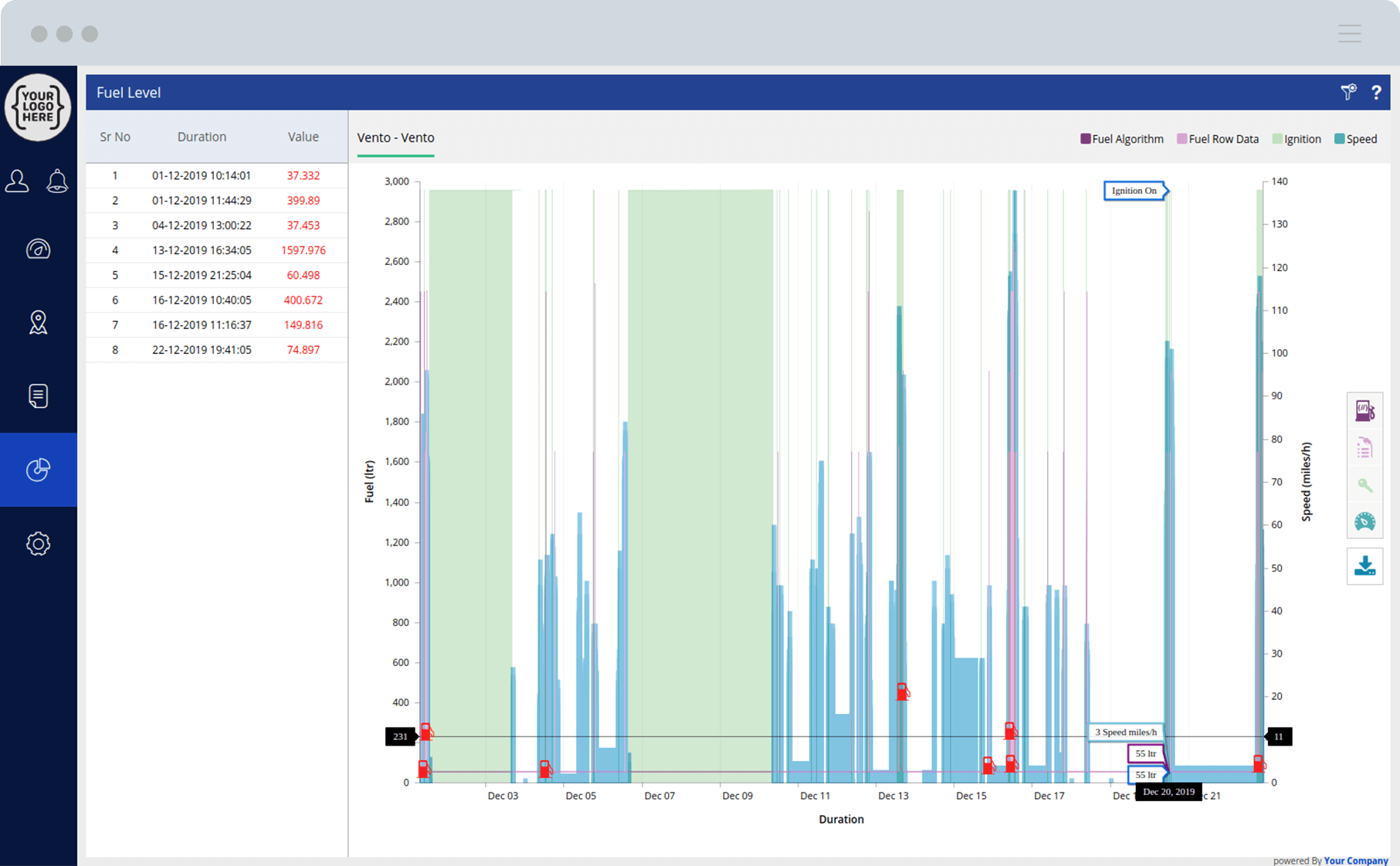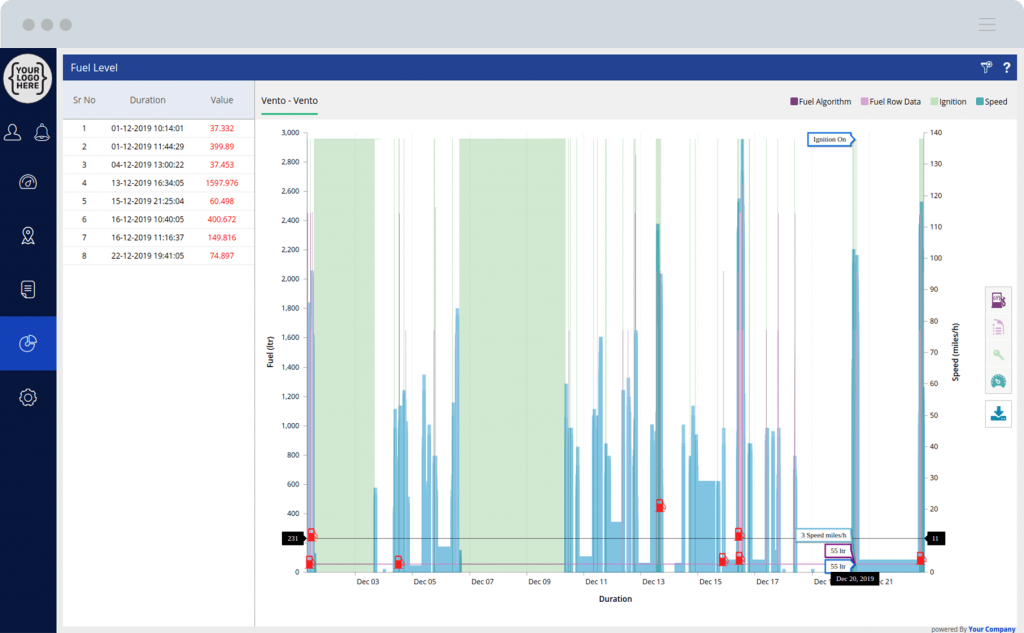 Charts, as we all understand, are the graphical representation of the actual data collected. Our system also does the same, it collects all fuel data from the report and other sources and then presents them in a graphical form. Here you will be able to see three charts which are fuel consumption, fuel level, and fuel refill vs drain. All these charts enable us to understand fuel level changes, fuel consumption, and other fuel activities with accurate data.
How do we help in efficient expense calculation?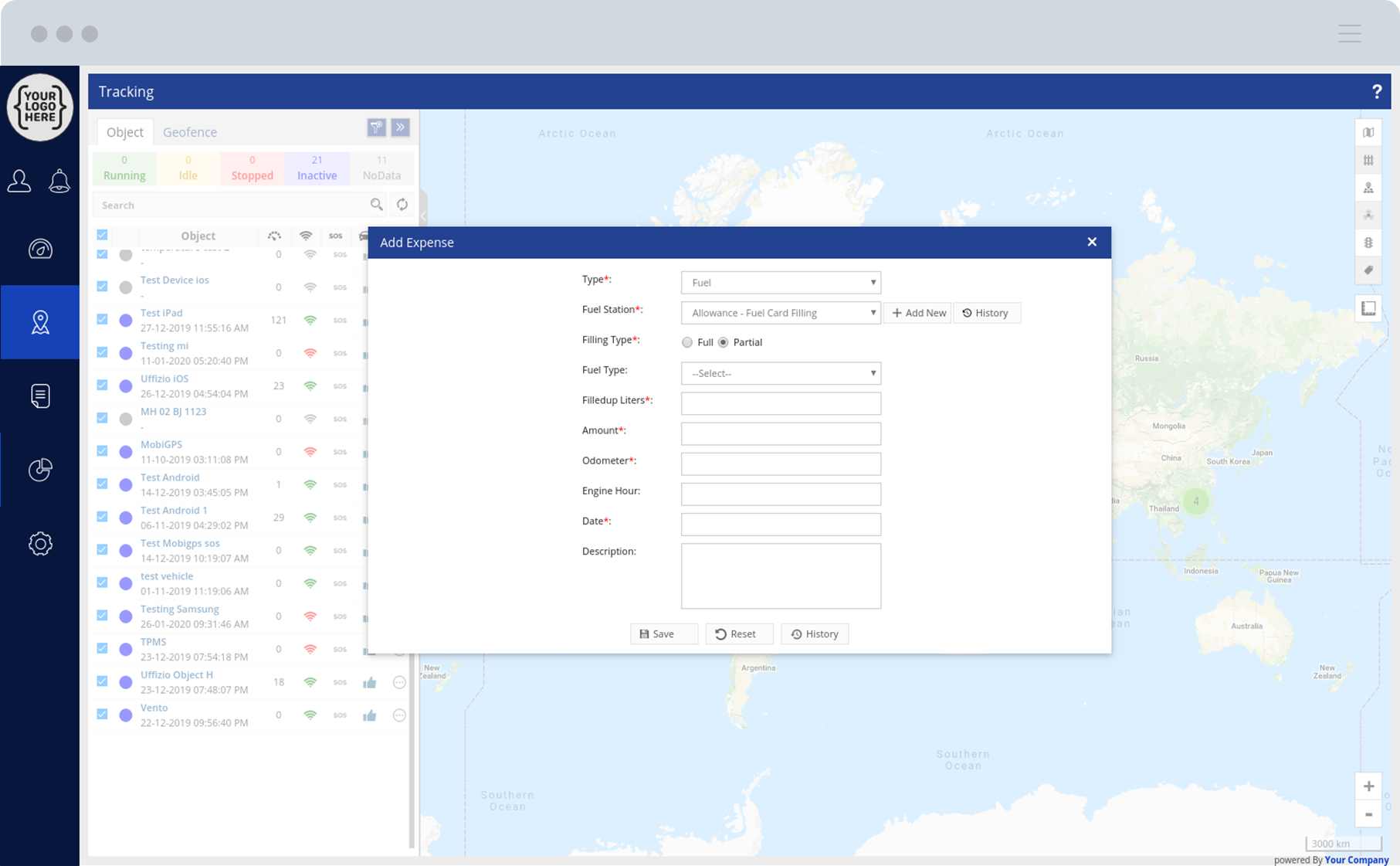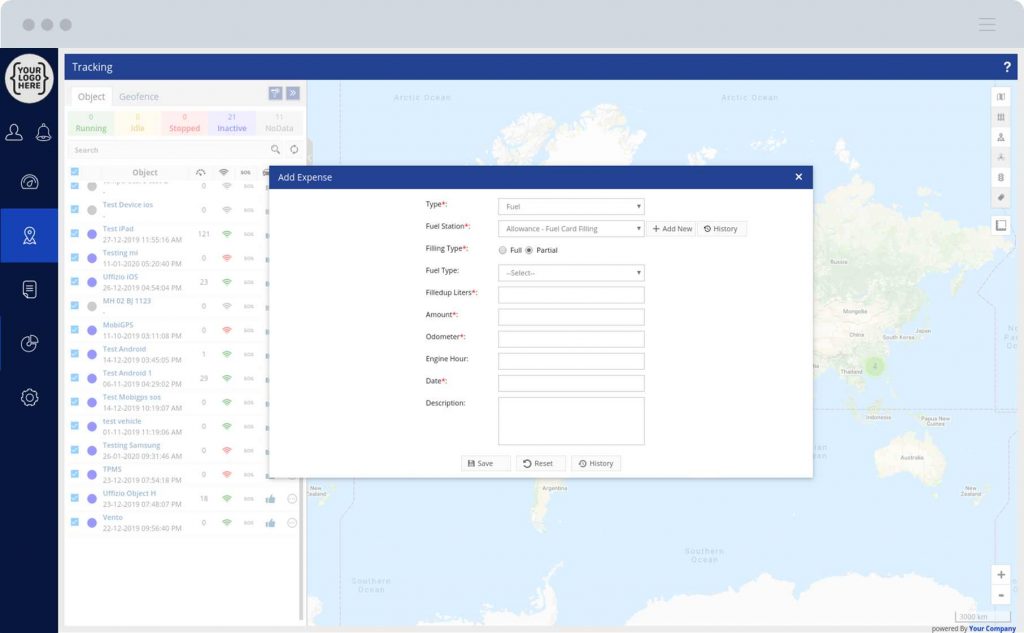 Expense calculation is a big problem for all industries. We have a fuel expense management feature that not only keeps track of fuel expense but also enable us to compare previous fuel expenses.
The expense management with simple expense data entry keeps track of every small and big expense.
Along with this, it also gives the option to add or select an authorized fuel station for your fleet. This can help you to catch unauthorized fuel filling by the driver.
Which alerts are there in our system?
The alert helps you to know about all the changes in the fuel tank. This helps you to prevent fuel theft, and leakage and catch false fuel filling. The system provides alerts like:
Fuel: This is to know if your fleet's fuel level is less than the level required.
Fuel filling: The user will be able to know when fuel was filled.
Fuel Pilferage: It helps to understand the sudden fuel level changes and theft.
Fuel Refill: This notifies the number of times when fuel was refilled.
Fleet Idling: This is important as fleet idling for a longer time consumes more fuel. So, you will be able to stop the driver on time.
You won't miss any fuel changes with these alerts.
Conclusion
We hope this was useful for all the new and experienced fleet managers. Use fuel with care and prevent fuel from extinction. Be connected with us for more such features and other arriving technology.