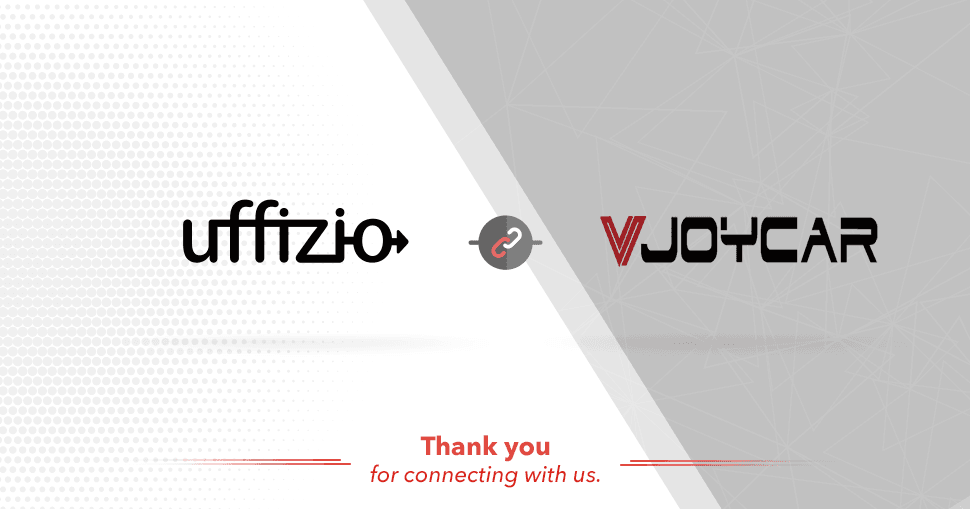 "We proudly announce that the tech giant, VJOYCAR has partnered with Uffizio" 
Congratulations on this joint venture!
Without strategic partnerships and collaborations, the progress and growth of a company seldom happen. Partnerships enable both companies to use the best of their talent and strengths to achieve successful outcomes. Expanding market coverage, building new customers, and creating brand awareness are some of the perks of a partnership.
We at Uffizio strongly believe that establishing technological partnerships helps in maintaining a competitive edge, desirable outcomes, and long-term profits. With our highly compatible and flexible software programs, we have teamed up with many technological partners and have been serving as their software partner for years.
Recently, we have gotten on board and shaken hands with the tech giant of China, VJOYCAR.
About VJOYCAR
VJOYCAR is one of the leading manufacturers and exporters of GPS trackers based in China. Established in the year 1999, VJOYCAR is a worldwide group of companies that produces products in the field of "in-car" electronics and vehicle safety systems.
Customers worldwide widely accept this ISO 9001-certified technological company for its excellent quality products and reliable service. VYOYCAR has successfully gained global attention with a vast market, exporting products to the USA, UK, Germany, Poland, India, Russia, UAE, Denmark, Brazil, Chile, South Africa, Nigeria, and more.
Being an OEM/ODM company, it also has a strong research and development department. With all these qualities, it has been rightly known as the leading manufacturer of "In-Car" electronics.
Certifications
All the GPS trackers of VJOYCAR have passed CE testing that includes: EMC, SAFETY, RF I, RF II, and HEALTH. With CE certification, VJOYCAR guarantees full transparency and high-quality products.
 Products 
VJOYCAR produces an extensive range of products that finds its use not the vehicle system but also in solar panels, animal tracking, human tracking, spy tracking, etc. With such a wide array of different products, we find ourselves to be lucky for being able to join hands with them. We are also glad to inform you that all the products of VJOYCAR are fully compatible with our software.