Introduction
We've been working on Trakzee's fuel and tire management module. Get your hands on more accurate and intuitive insights. These well-thought updates are here to bring down your operational costs. Additionally, we have added new tools for you to monitor the round-trip of your delivery fleets. See when they leave assigned geofences and plan active schedules that assure on-time delivery every time.
1. Enhancing Trakzee's Tire monitoring feature
Monitoring your fleet's tire pressure and temperature just got easier! With Trakzee, now you can access all tire-related data on a single platform. Get notified when the temperature and pressure of your tires don't fall within the MIN-to-MAX range. For instance, when the temperature of your tires exceeds its maximum defined limit, you get alerts. Such anomalous changes will also be reflected in the Object Alert Report. This alert will tell you :
The axle position of the tire
Sensor ID
Current tire pressure and temperature values
Condition of the tire
Location, date, and time


How does this benefit you?
Improve your fuel economy and optimize fuel consumption with ideal tire pressures and temperature.
Always ensure safe driving conditions by checking the tire pressure via the Trakzee mobile or web application before getting behind the wheel.
Initiate reactive measures when you get notifications for abnormal tire pressure and temperature and ‌reduce the risk of accidents. 
2. New ways to customize the validity of shared links
Now, Trakzee users can customize the validity of a fleet's live location link based on addresses and geofences. By selecting the address/geofence option under the "validity" drop-down box, you can define the validity of any shared link. The location link of the fleet expires as soon as it reaches the selected address or enters the geofence perimeter.
How does this feature work?
Step 1: Log in to Trakzee's web or mobile application and go to the live tracking screen.
Step 2: Under the share location option on the live-tracking screen, select the validity drop-down box.
Step 3: Select the Address or the geofence validity option.
Step 4: Under the address option, you'll be able to select an address from your saved lists.
Step 5: If you choose the Geofence option, you'll be able to choose a geofence of your choice from the list of geofences available to you.
Step 6: Now, this link is ready to be shared with the concerned stakeholders.
Step 7: The link expires when it reaches the desired address or a geofence.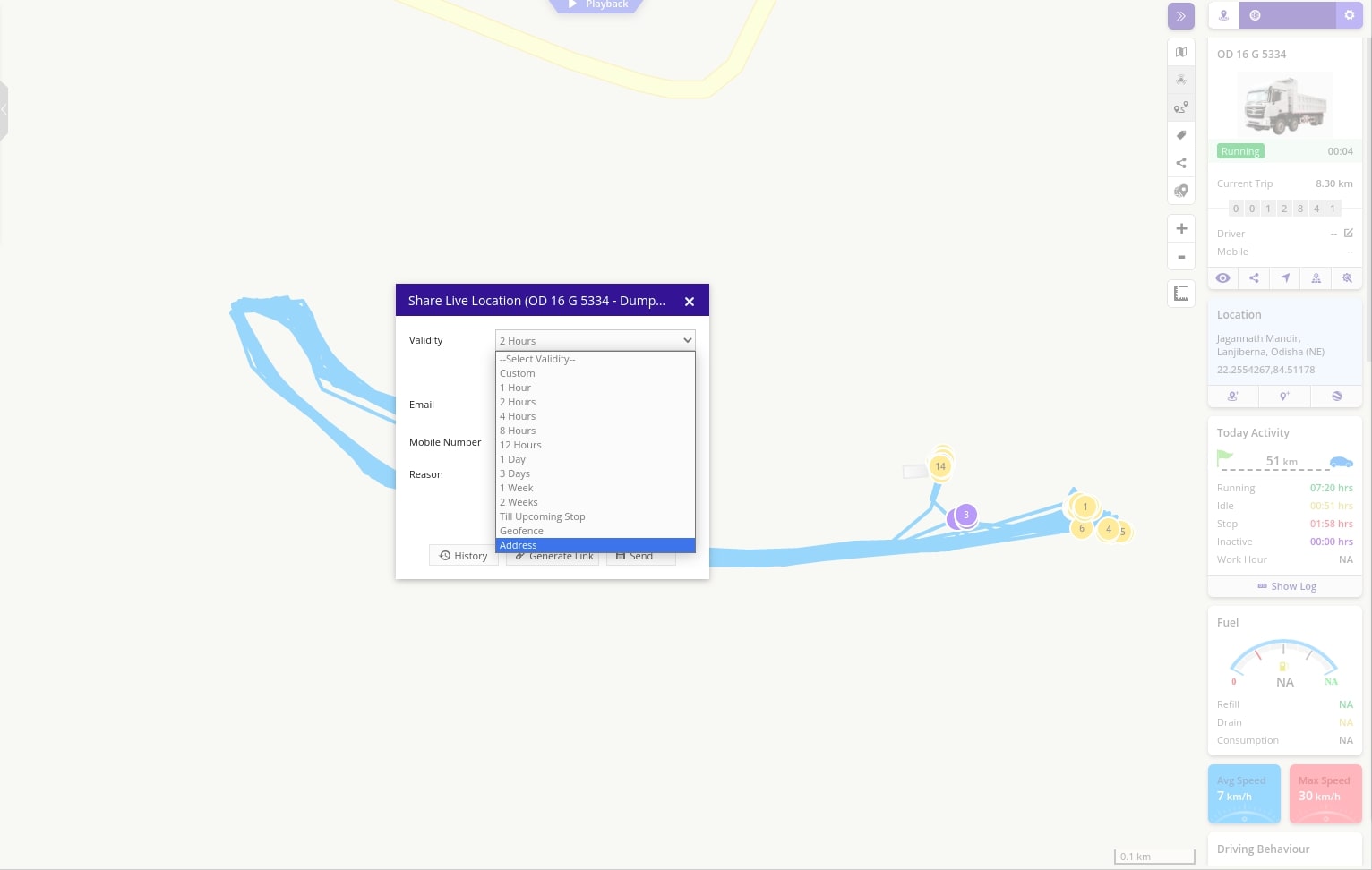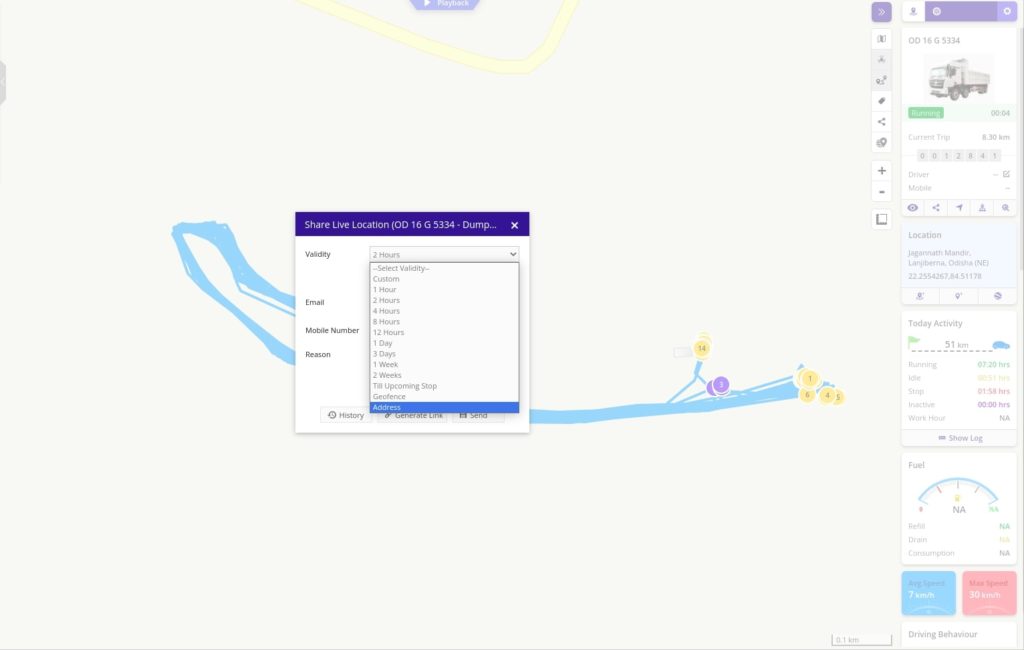 How does this affect you?
Keep your customers happy by sharing the live location of your fleets.
In case of failure to reach the mentioned address or geofence, the link automatically becomes invalid within 24 hours. Hence, conserving the privacy of your fleet and drivers.
So, protect the privacy of your drivers and fleet's location while still allowing your clients to review real-time ETAs and potential delays.
3. Monitor delivery trips, effortlessly!
Trakzee users can now monitor the journey of their fleet from a start point (like manufacturing or a storage unit) to the endpoint. Round trips can be monitored by selecting the "Return" option under the base location configuration screen. This way, fleet managers can access the positions of their fleet at all times during the delivery trip. They'll be able to estimate ETAs and potential delays with the "Return" option and can plan subsequent deliveries accordingly.
How does this benefit you?
Enhance customer relations and always deliver on time with accurate ETAs and realistic scheduling
Setting geofences for the start and end locations helps with holistic monitoring. As soon as your fleet leaves the designated geofence, the trip begins, which is marked by an upward arrow (↑). When the vehicle reaches the endpoint and starts its return journey, the arrow changes to a downward arrow ( ↓ ).
The fleet ETAs and potential delays get reflected on the dashboard for quick review.
4. Fuel module enhancements
Fuel is an expensive asset and businesses all over the world are trying to find ways to bring their fuel costs down. We understand that rising fuel costs can take a significant toll on your operational costs. That is why we are constantly trying to improve our fuel module. 
Here's a synopsis of what we've done so far:
Now, Trakzee users can review the fuel graph on the Alert report itself. When a violation is detected, data from 30 minutes before and after the event will be shown on this graph. This will help fleet managers figure out what went wrong and give a holistic picture of how a violation happened. 
Ever since we began selling fuel-level sensors, we have considered adding hardware-related details to our fuel module—so that users can get a holistic view. Therefore, we updated our fill-drain chart, and it now shows the ambient temperature, voltage, fuel sensors angle, and fuel impurity percentage. 
We have also optimized our event calculation code and used custom parameters in our algorithm. As a result, our fuel consumption analytics are more accurate than ever. 


5. Monitor fleet's fuel consumption because of AC usage
Using a vehicle's air-conditioning system can increase its fuel consumption and heavily affect the fuel economy. In fact, an air-conditioning system can increase fuel consumption by up to 20% because of the extra load on the engine. Hence, monitoring AC-related fuel usage is essential to fuel savings. So, we've created a report that gives you fuel and temperature data from the AC port of your fleet. 
How does this affect you?
Get to know when your drivers are idling with AC turned on and discourage the occurrence of such wasteful actions in the future.
Experience savings on fuel expenses and improve fuel economy by practicing Zero idling.