At Uffizio, we're committed to providing our users with the best possible experience when using our software. That's why we're excited to announce the latest updates and advancements that will help our users work even more efficiently and effectively. These updates are the result of listening carefully to our users' feedback, and we're confident that they will deliver the increased visibility and functionality that our users need to stay ahead in today's fast-paced business environment. Let's take a closer look at some of the exciting new features and improvements.
Trip Focused Dashboard- SmartBus
We're excited to announce the latest development to our smart bus application – the creation of a new dashboard specifically focused on trips. While our application already features a dashboard and live tracking, we realized that our users needed more detailed insights into individual trips. Our new trip-focused dashboard provides users with a comprehensive view of trip data, including the most missed points, trips with the most alerts, and other key details. By creating this new dashboard, we're providing our users with even more valuable data to help them make informed decisions and improve their overall experience with our software

Stoppage History Report- SmartBus
This report provides our users with detailed insights into when specific points are visited during a particular trip. This report was developed in response to feedback from our clients who identified a need for greater flexibility and customization when it comes to analyzing transport data. In addition, we've added a new feature to the report that shows multiple visit times for all available points. By analyzing this data, users can gain valuable insights into the efficiency of their operations and identify potential areas for improvement. With this new feature, transport managers can easily identify return points and make necessary configuration changes to optimize their operations. We're confident that this new feature will be a valuable addition to our software and help our users achieve greater success.

Student Attendance Log
This new feature will allow users to keep a record of students' entry and exit from school premises with gate information. This new feature was developed in response to feedback from our clients, who identified a need for greater visibility and accountability when it comes to student safety on school grounds. With this feature, parents will receive notifications when their children enter or exit the school with entrance/exit names, and administrators will have access to detailed reports with timestamp information for all students who punch in and out of the school. This feature is especially useful for tracking students who come to school on their own vehicles, providing additional peace of mind for both parents and school staff. We're proud to provide our users with this important tool for ensuring the safety and security of students on school premises.

Geofence Overcrowding Alert- Trakzee
With the addition of a new Geofence Overcrowding alert, users can now get notified when there are more vehicles in a specific geofence than the allowed limit. This feature is essential for transport managers who need to ensure that their vehicles are not overcrowding and violating safety guidelines.
With this new alert, the system will automatically flag when a geofence has reached its limit, and a notification will be sent to the appropriate parties. This ensures that the transport team can take action before any safety violations occur.

Night Driving Alert Enhancement- Trakzee
We're constantly looking for ways to improve the functionality of our Alert module and based on feedback from our clients, we're now adding a new condition to our Night Driving alert feature. Specifically, we'll be incorporating a new geofencing capability that will allow us to distinguish between different areas where alert notifications should or should not be triggered. For example, in the case of vehicles that are used for nighttime deliveries, we'll create a geofence around state borders to prevent unnecessary alerts. At the same time, we'll ensure that alerts are generated in other areas where they are needed. By providing this added level of customization, we're making it easier for our clients to manage their fleet and respond to potential violations in a more targeted and effective way.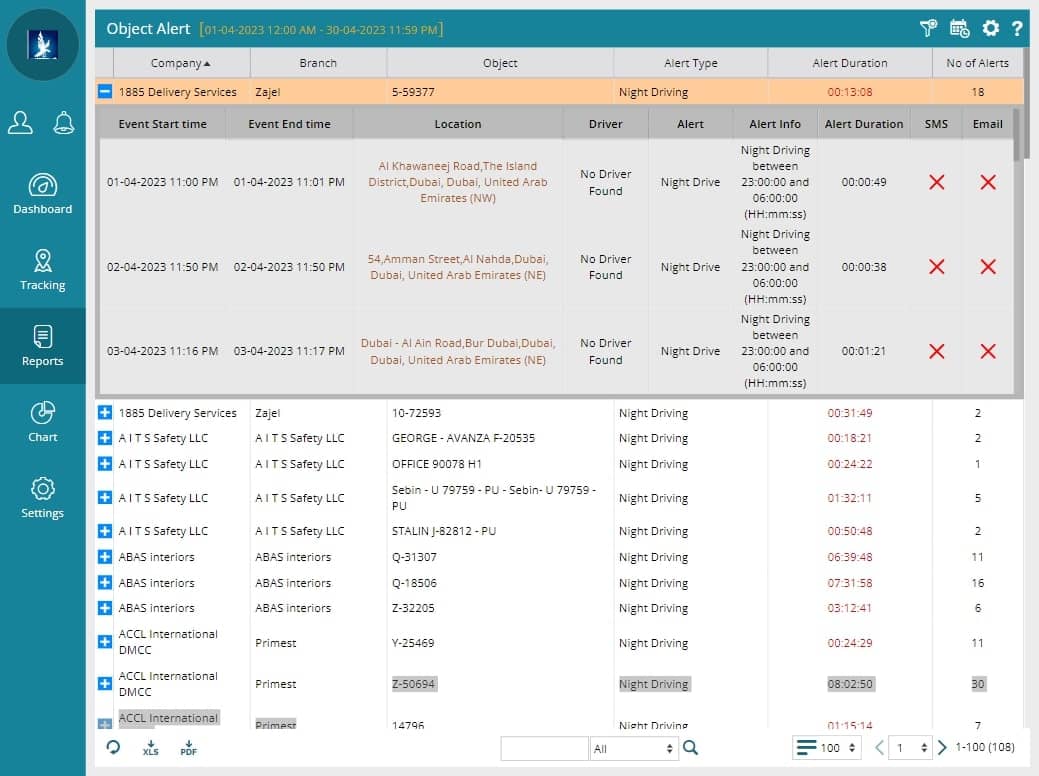 Live Tracking Screen Enhancement- TaskEye
One of the updates includes a new tab feature in the live tracking screen that will show employee, address, geofence, and task lists with filters and details such as task name, estimated time, employee name, and status. Tasks can be plotted on the map with the tolerance area displayed on hover. The search tab will have an "Add Employee" button and the employee list will include options to enable/disable or reorder columns. New map features include "Single Employee Mode" and "Employee with Path," while a tooltip design will display employee information on the map. Additionally, a new status option "Total" will be added to the status tab for filtering and sorting. The setting option will allow users to customize the employee and task list tabs.