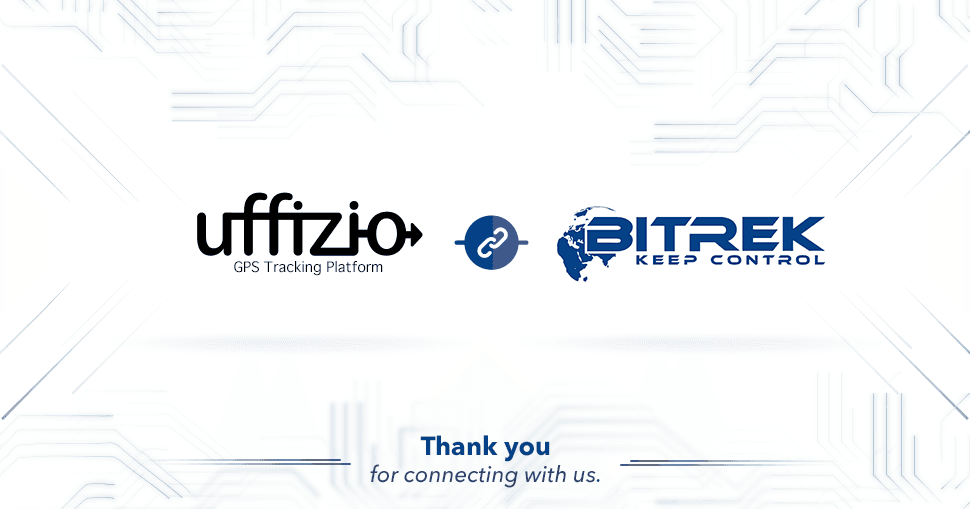 "We are pleased to announce that one of the leading electronics manufacturing companies of Ukraine, BITREK has teamed up with Uffizio"
Compliments from Uffizio!
We believe in the motto that businesses are better together. To boost profitability and quality, leveraging strategic partnerships and collaborations is crucial. Uffizio has successfully served as a software partner for various companies over the years.
Moreover, BITREK is one of our newest partners. We look forward to joining hands in creating services and solutions to achieve excellent customer satisfaction and long-term profits.
About BITREK
This ISO 9001 certified production company was established in the year 2010. In such a short span of time, it has become a pioneer in the field of development and production of equipment for GPS-monitoring and control of transport. It is the largest seller of equipments for the control transport in Ukraine.
With the potential to develop over 10,000 devices per month, BITREK has become the leading manufacturer of vehicle monitoring equipment in Ukraine. The extensive arrays of devices made by BITREK are cost-friendly as well as highly reliable.
Bitrek is a Ukrainian OEM manufacturer of a new generation. 
Having a brand of GPS equipment since 2010, ISO certification and own R&D high-level team, we are focused on the following telematics industries: 
Precision agriculture
Secure driving
Fuel control
Video monitoring
Production on demand.
What Bitrek Can Do?
We do care about our complexity. 
Provide our experience in demand flexibly. 
We make development and production compliant to your project goals and objectives. 
Additionally, we are used to finding the most efficient and effective way of delivering your project tasks. 
BITREK it is not just about production. It is about solving clients' business tasks. We do care about our partners with "together in the same boat" approach.
In What ways they are Best? 
Production team. ISO 9001-2018 cert and CE certification in the EU for all our products.
3 level QA control on production.
2G, 3G, 4G equipment.
2-years of warranty cover as default for all products. Extended warranties are possible too.
Integration and research engineering team. 
Development Program for new partnerships.
Why BITREK? 
Worldwide locations of stocks (Warsaw, Poland, South America, Asia, Middle East)
Educational webinars
Annual partners conference in Kyiv
Extended and enhanced tech support for exclusive partners
Application research and integration for your projects
Production on demand. 
Products of BITREK
BITREK manufactures a wide range of products that are utilized for vehicle control, fuel control, cargo control, weather station, etc. Some of which are BI 520 TREK, BI 810/820 CONNECT, BITREK CANREADER, METEOTREK, BI 910 TREK and many more.
It is our privilege to inform our readers that the tracking software platforms of Uffizio are highly compatible with all the products of BITREK.
Reasons to team up with Uffizio
Join hands with one of the leading vendors of White Label GPS Tracking Software
Excellent Customization Services
Multilingual Support
Flexibility in terms of Customization
User-Friendly and Compatible Software Systems