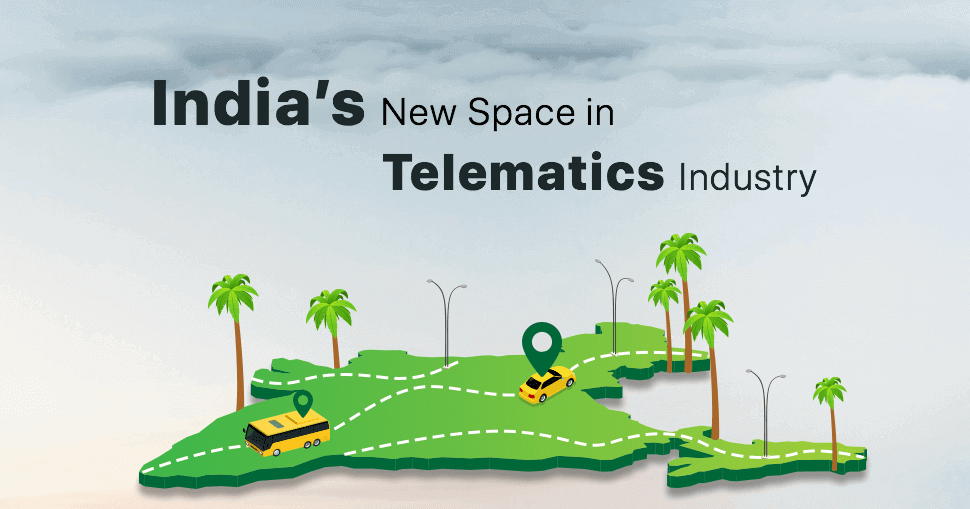 India a country with the third-largest road network in the world, with the total number of vehicles in the year 2018 stood around 300 million. Where 70 percent of the population opts to travel with shared or personal vehicles for the commute. Not only the public but the industrial movement of transferring goods, commodities, etc has increased by over three billion metric tons of freight transported through roads in 2018.
Increase in the number of vehicles in India, the telematics industry had planned to invest $300 million in India. India Commercial Vehicles Telematics Market has seen remarkable growth as the freight transporting companies have become more cautious about their vehicle maintenance, vehicle security, goods delivery status, fuel management system, and road safety.
Vehicle Telematics solution in the world operates on four key factors
1) Coordinating with a telecom operator to provide data services
2) Cloud hosting system
3) GPS tracking hardware device installed in the vehicle
4) Optimizing these features in the application.
Telematics Industry In India
In India, the telematics market is still at a nascent stage, commercial vehicles market dominates the overall market. Telematics uses in India are defined by fundamental facilities such as fleet management and monitoring of fleets.
Indian Telematics market is evolving towards advanced technology which has made hardware and software devices less complex and sophisticated helping organizations to grow their business rapidly.
Factors Promoting Telematics Industry in India are:
1) Navigation: Due to the growing complexity of the road networks in Indian towns and cities, the GPS navigation service is in high demand. This helps people to get real-time traffic information, and select a better route just using their smartphones.
2) Remote Diagnostics: Data collected by telematics devices can provide valuable insights into the functioning of the vehicle thus providing service reminders, driving behavior, fleet maintenance report and fuel consumption details.
3) Safety Against Thefts: The safety and security feature in telematics provides the vehicle with anti-theft through which user can track and get the exact location of their vehicle.
4) Wireless Connectivity: With the expanding infiltration of portable innovation in India, there is a huge growing demand for mobile connectivity. Both rural and urban users have shown high interest in technologies like Bluetooth compatibility, smartphone connectivity, and Hands-free calling features in their vehicles.
Telematics India is Adopting Industry 4.0
Industry 4.0 is preferred as a new chapter in the industrial field where these smart factories and industries focus on automation, web connectivity, augmented reality, and machine learning technologies.
The major focuses of Industry 4.0 are towards automation and data exchange in smart manufacturing technologies which mainly includes the Internet of Things, Cyber-Physical System, Industrial Internet of Things and Cognitive Computing, and Cloud Computing.
Industry 4.0 is not just about investing in improving manufacturing efficiency and technology. It's about revolutionizing the way your entire organization operates and grows.