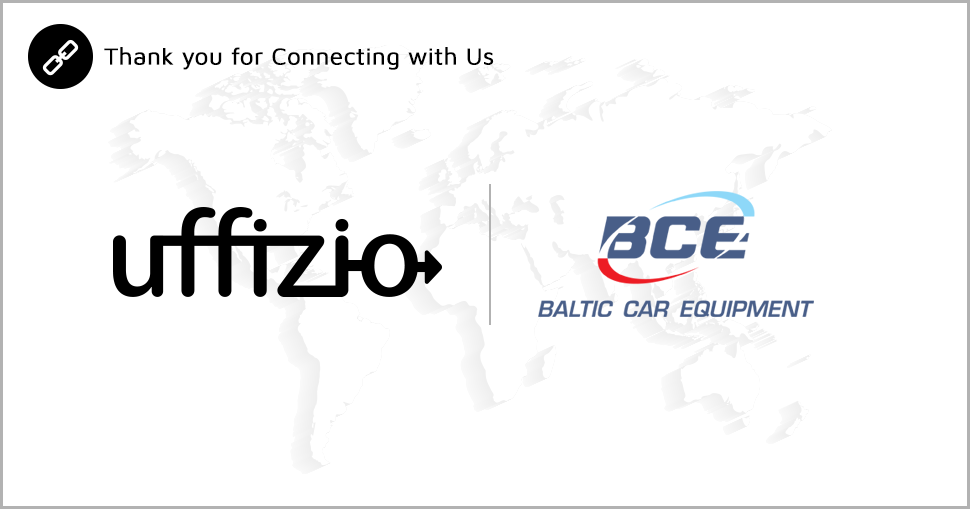 "Our software paired with BCE's trackers will give a promising product to the market"
Partnerships are very important in this modern era where businesses look forward to focusing on their own specialization and core competencies. One business cannot efficiently develop and deliver all the products & services, and hence comes the idea of finding a software partner.
Uffizio has always stressed upon becoming a software partner for companies who want to focus on their devices and sales, while we take care of the software development and maintenance.
Amongst the latest partnerships that we have entered into is BCE- Baltic Car Equipment.
The high compatibility and flexibility provided by Uffizio's software platforms allowed the following trackers to integrate with our software- FMS500 StCAN, FMS500 Light, FMS500 ONE, FMS500 Light+, and FMS500 TACHO.
About BCE
Established in 2006, Baltic Car Equipment is today one of the largest manufacturers of telemetry equipment in the Baltic States.
The Lithuanian company is known for its advanced equipment in the telemetry and automotive security field.
The company heavily invests in resources & Development in order to achieve new and larger targets in the International markets.
The Core businesses of BCE include the Manufacturing of GPS/Glonass/GSM tracking equipment, the manufacturing of vehicle security systems, Providing Fleet management services in the territory of Lithuania, and Developing various telemetry solutions and applications.
The company has worked on 100+ projects and has a presence in more than 70 countries.
Partnering with Uffizio – Join Us
Partnership at Uffizio is based on mutual trust, commitment, and absolute dedication. In any partnership, big or small, our focus is on providing the highest quality of services with zero compromises and 100% accountability.
We are here not only to help you start a business of GPS tracking-based software but also to assist you in the entire process that lies ahead.
We understand that any partnership involves shared efforts by both partners in order to build a strategic solution for the ultimate customers. And hence to increase efficiency and effectiveness, our partnership plan offers various alternatives for specific business needs.
It is not so easy to choose the right software development partner for your company.
The software partner you choose must have immense experience & expertise in the software development domain to generate products that smoothly accomplish your business needs. If you are still confused, read our blog on, 'India's leading and trusted vendor for GPS tracking software'