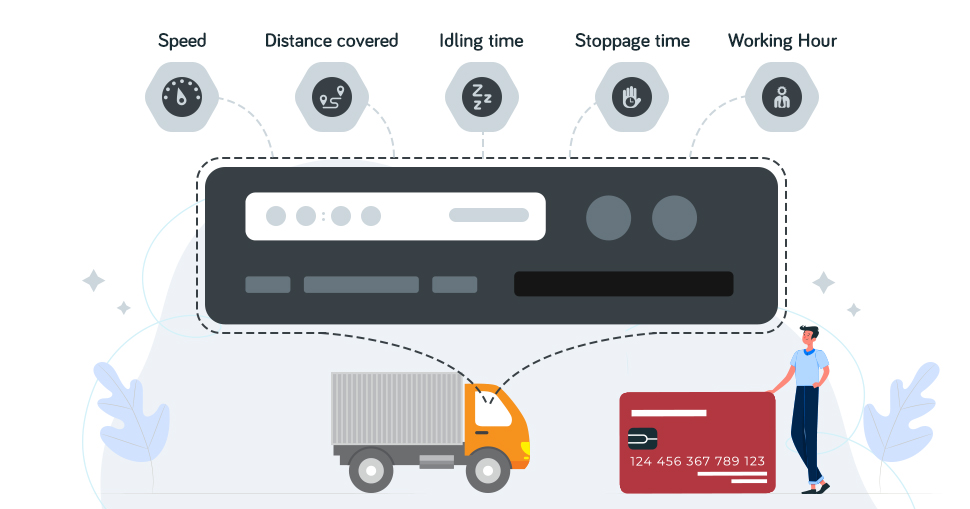 We have seen various steps taken for monitoring driving behaviour. This is important as it ensures the driver's performance and fleet safety. For which Tachograph is an efficient solution.
Tachograph is a device attached in your fleet that records the speed and distance in the form of a graph. This data was recorded on the wax-coated paper disc. The disc is removed from the device to check the data.
At the beginning of its journey, Tachograph was introduced for railways and later became a part of commercial vehicles, too.
Now with the change in technologies, old Tachograph is being replaced by Digital Tachograph.
Digital Tachograph not only records distance and speed but also monitors driving behaviour according to the mode selected. There are 4 different modes are available here, which are:
Driving: This mode is automatically selected when you start driving fleet.
Rest: You can select this whenever you need to take a break.
Other work: This option can be used when you stop delivering goods or other work related to your company.
Period Of Availability (POA): As its name suggests, you can select the period when you will be available to take the task.
How does Digital Tachograph work?
For using Digital Tachograph, first of all, you have to mount the device in the fleet. Then enter your company card to login in the system and after this eject the card. Now, he has to enter the driver card before starting the trip.
As the trip begins, the data will be recorded in the card. As discussed earlier, according to the mode selected, it will calculate the working hour. The mode selected will be shown in the form of a pictogram on the tachograph screen along with time, distance, and speed.
It will also warn the driver in cases like:
Over- speeding
Invalid card insertion
Display alert
Download fault
Process delay
No paper
Here, there are two options available for viewing the recorded data, which are:
Print: Driver can print the data regarding the trip from the device.
Driver card: Insert the card in the smart card reader attached to PC with the help of appropriate software like Trakzee.
Moreover, Managers will also receive alerts regarding the fleet event.
What are the rules that you must follow?
A driver should always use the card during the trip. If the card is lost, then it must be replaced within 15 working days. The Digital tachograph will even record that card was not inserted
Each driver should have their own card
The system should have correct contact details
The card should not be removed during the working hour.
Closure
This system is very useful for understanding your driver's performance throughout the day. Moreover, the traffic police can also check fleet operation easily. So, it was important for you to know Digital tachograph. Get the best out of the technologies and so be connected with us.